Description
One diaper with a four-size adjustability to fit babies from 6-35+ lbs
The Rumparooz One Size Cloth Diaper is a pocket diaper system that will truly grow with your child. Rumparooz diapers are four adjustable diaper sizes in one diaper fitting babies from 6 to 35+ lbs. That is one size that fits from birth to potty training. Kanga Care brand cloth diapers are uniquely designed with the patented leak protection technology of double inner gussets to keep the messiest of messes locked in. Each diaper comes with a free set of microfiber absorbent pads called the 6r Soaker that are customizable for six absorbency settings. The Rumparooz are available in a multitude of vibrant color and fashion forward, highly sought after prints.
Additional Information
To Use:
Before first use, wash diapers once.
Snap diaper rise to proper size setting.
Select the proper 6r soaker for size of diaper and insert through pocket opening, placing soaker inside the diaper.
Fasten diaper to baby!
Wash & Care Instructions
The number one thing to remember when caring for your diapers is they are just another load! There is no magical solution that you should need and no crazy tricks.
Washing Instructions
1

Cold rinse

2

Hot wash: add the recommended amount of detergent for the appropriate load size.


3

Cool rinse

4

Tumble dry low or lay flat to dry in indirect sunlight.
Detergent Recommendations
1

Original Tide Ultra

2

Tide Free and Gentle

3

Gain

4

Ecover (powder, not liquid)
Please do not use laundry additives such a bleach, Oxiclean, Borax or Bac-out to wash your Kanga Care products. If you have questions about our washing instructions, please ask! We are happy to help!
Sizing Information
Customer Reviews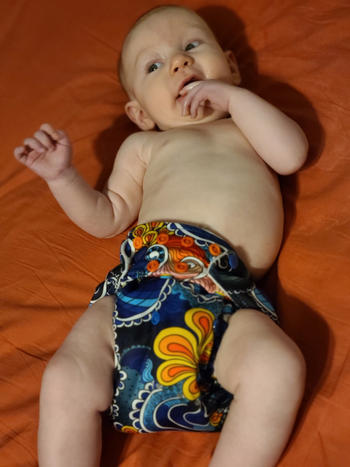 03/04/2021
Too cute!
This print is amazing! Rumparooz are seriously the only cloth diaper brand worth buying. We got this with the bamboo insert and it makes it super absorbent.
Elizabeth .

United States
03/22/2021
Superior
The double gussets on these things have saved me so many outfits.
Camille M.

United States
03/12/2021
So Cute!
This design is super cute, I bought the mini wetbag first of it and then I had to buy the diaper also later! Its such a bright fun pattern! p.s... I would love a blanket with this pattern! :) I love these cloth diapers the material is so soft, and the double gussets are great!!
Sara

United States
01/24/2021
LOVE this design!
We did not need another Rumparooz diaper haha, but this one was too cute to deny! This one size diaper is number 24 of our collection. We love these cloth diapers for our baby because of how soft they are and they've fit her since 2.5 weeks when she was 8lb.
A
Ashley
01/20/2021
My Favorite Diapers & Print!
Best cloth diapers ever! Love how they are so soft and have double gussets to keep messes in. They fit my toddler great and the best inserts for customizeable absorbancy. We had tried other brands previously and Rumparooz by far are superior in quality and design.'Whimsical is the most gorgeous vibrant print on this diaper! Love!
Kendall S.

IL