Description
What is this?
CJ'sBUTTer® Spritz is a special blend of oils that is conveniently applied with a fine mist spray, beneficial in healing skin and treating hair as a leave in conditioner, for taming fly-aways, and for defining curls. Use our Spritz as a massage oil, bath oil, tanning oil, after-shower moisturizer or a spray-on diaper cream for tender-to-the-touch rashes. CJ's Spritz is an amazing moisturizing spray for skin or hair!
Try it on:
Yeast Rash
Thrush
Cradle Cap
Athlete's Foot
Yeast Based Eczema
Psoriasis
And Much More!
Package Description:
New 4 oz. spray bottle fits easily in any compartment intended for a small baby bottle!
Customer Reviews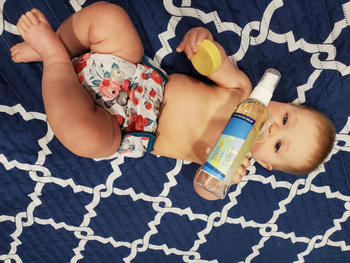 04/09/2021
Amazing smell
I love all the cjs but the sprays are my most favorite, I don't get anything on my hands and I love that
Sara C.

United States
09/04/2022
The perfect after-shave spritz!!
I've used CJ's sticks on my cloth diapered babies for years. I decided to buy this scent for myself to use as an after bath moisturizer/after shave oil!! I'll never use anything's else!!! CJ's products never disappoint.
Hollie D.

United States
04/10/2021
Amazing!
I use this for myself! The Black Amber and Lavender scent is sooooooo dreamy and perfect, so I use this spritz to help moisturize after a shower, or after washing my hands during winter months. It's gentle and really helps to keep my sensitive skin healthy!
Meredith

United States
11/05/2020
CJ's and Kanga'a perfect match
The collab between CJs and Kanga Care is absolutely dreamy! I love the Black Amber Lavender scent'it is one of my favorites yet! In typical cj's fashion the product is incredible for everything. It cleared up the start of a diaper rash immediately and best part is it is safe for cloth diapers! Finally a product that works great, smells amazing, and works with cloth without anxiety! No more worries about my diapers!