Description
Keep Your Surfaces Clean & Your Baby Comfy While Changing Their Diaper With Kanga Care's Changing Pad In Radical, A Diapering Accessory Must Have! The Kanga Care Changing Pad is a must have for every changing station, nursery, car, diaper bag, living room and everywhere. This changing pad is the perfect size at 24" x 15", great for changing your newborn or your toddler. The Kanga Care Changing Pad provides a protective and padded surface wherever you may be. The changing pad is 3 layers thick; a 100% hypoallergenic microchamois layer, one layer of absorbent microfiber, and a layer of water resistant polyester TPU which comes in a variety of fun colors and prints.
Protect your changing table, baby's bed & more!
The perfect size: 24 in x 15 in & 3 layers thick:
Top layer: No-Pill Microchamois, 100% hypo-allergenic (same as inner Rumparooz and LilJoeys)
Middle layer: Hidden layer of absorbent microfiber (same as 6r soakers)
Bottom layer: Signature Kanga Care print or color waterproof TPU
These changing pads are great for replacing the free changing pad that came with your diaper bag that is too small! We've even used these as emergency car seat protectors and waterproof burp blankets.
Customer Reviews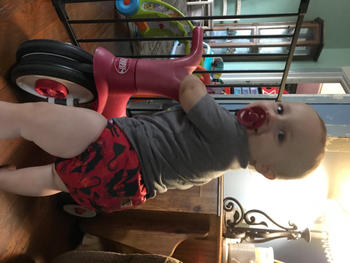 06/09/2021
Kanga care LOVE!!!
We absolutely love Kanga Care in our house. From the diapers to the wet bags!!! The RAR and OVB are amazing. I've tried several other brands and found I was only wasting my money. Definitely Kanga care all the way. We use everything!!! I can't brag enough over this product!!! RAR for daytime OBV for long car rides and shopping trips and wet bags for EVERYTHING!!! They have a million uses!!! Keep the new releases coming cause I'll keep buying!!!
Farron F.

United States
08/05/2021
Love the changing pads they are so useful
This is not my favorite print, but I absolutely love Kanga Care's changing pads. There are so many uses for them and they hold up really well.
Crystle D.

United States