Description
Available in 3 mix-and-matchable absorbency options:
Not ONE insert, but TWO...
Hemp is our most trim and absorbent option for those super soakers! The Rumparooz 6R Soaker was designed specifically for the Rumparooz One Size Cloth Diaper, but has such a complete range of size and absorbency customization it can be used in any pocket diaper in your cloth diaper stash. Each Rumparooz 6R soaker is actually a pair of inserts, one contoured newborn insert with two snaps (3 layers thick) and one one-size insert with various snap settings (4 layers thick). The Rumparooz 6R soaker is the first one size insert that lets you fully customize both size and absorbency with 6 different settings. Inserts that are made from natural fibers must be fully prepped before use. The Hemp & Rayon from Bamboo inserts will be at their maximum absorbency after 8-10 Hot Wash/Tumble Dry High, however they may be used before they are fully prepped. To prep soakers, wash on hot (no detergent) then tumble dry on high 3-5 times.
The Rumparooz 6r Soaker insert is a set and includes:
(1) Contoured Newborn Insert with two snaps (3 layers thick)
(1) One-Size Insert with various snap settings (3 layers thick)


Customer Reviews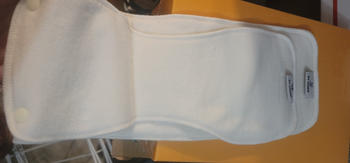 12/29/2021
Best
These are absolutely the best inserts I have come across (along with the bamboo)
Amanda B.

United States
02/28/2023
Best inserts ever!
Seriously I have tried so many brands snd styles of inserts and this are by far one of the best! They work so well for overnights.
Kristy H.

United States
04/08/2022
Good absorbency
Good absorbency and trim in the diaper
Crystle D.

United States
12/03/2021
Hemp is the best!
These inserts are so soft, so absorbent, and so easy to use whether you pair them with Rumparooz or with covers. The quality of the hemp/cotton mix has actually improved since I ordered a few years ago, and I feel that these are even more absorbent than my original set.
Devin M.

United States
11/02/2021
Hemp inserts
They are the best diaper inserts that I have found
Catherine W.

United States