Description
Kanga Care Microchamois Diaper Liners are perfect to use any time you find the need to use either over the counter or prescription creams when using cloth diapers. The 100% hypoallergenic material is also a stay dry surface. Kanga Care recommends using a liner with all diaper creams. Kanga Care Diaper Liners are perfectly designed for the Rumparooz One Size Pocket Diaper. The liner fits between the inner gussets and does not compromise the function of the dual inner gussets critical feature. Liner should be used tag side down. This will allow the correct side of the no-pill microchamois to lay against your baby's skin.
Protect your diapers while using diaper rash cream!
Kanga Care recommends using a liner with ALL DIAPER CREAMS, even if they promote that they are "cloth diaper safe."

Perfectly Designed for the the Rumparooz. The liner fits between the inner gussets and does not compromise the function of the inner gussets critical feature.
Made out of the same inner material as the Rumparooz and the Lil Joeys. No-Pill, 100% hypo-allergenic microchamois.
12.5" long, 3.5" wide. Fits perfectly between the inner gussets of the Rumparooz.
Kanga Care liners will also work in the Lil Joeys if you are concerned about those first couple days of meconium. They are a little longer then the Lil Joey so just fold the liner down at one end and position it evenly into the diaper.
Washing Instructions
1

Cold rinse

2

Warm wash: add the recommended amount of detergent for the appropriate load size.


3

Cool rinse

4

Tumble dry low or lay flat to dry in indirect sunlight.
Detergent Recommendations
Click here for Kanga Care's list of recommended detergents that have undergone testing and fulfill the necessary requirements for effectively cleaning human waste.
Please do not use laundry additives such as bleach, Oxiclean, Borax or Bac-out to wash your Kanga Care products, learn more about how this can negatively effect your cloth diapers and accessories.

If you have questions about our washing instructions, please ask! We are happy to help!
Customer Reviews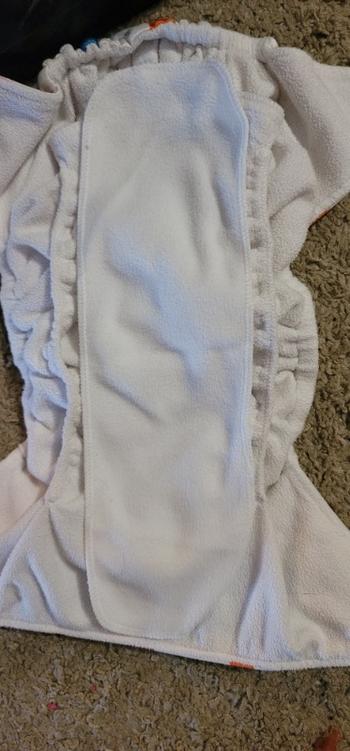 03/27/2022
Perfect
Again I love these. Perfect if you are trying to keep your diapers in good enough condition to resell or donate.
Amanda B.

United States
06/09/2021
Useful and soft
These liners are better than disposables as far as cutting down on waste and being soft. I haven't had to use them yet.
Crystle D.

United States
08/16/2020
So Many Uses
Great for a little extra absorbency in lil joeys and if you need a barrier for non-cloth safe creams, or if you just want to help keep stains away from the diapers.
Maranda D.

AZ
06/09/2019
Perfect for sensitive skin
I was very skeptical of this product. I didn't expect much. My daughter has wetness sensitivity, and will have a mad rash if damp for even a short while. We tried other things we already had first. And they just were ok. But when I received these they were perfect. First, they fit that rarz diapers without any need to fold. They are very thin and seem small, but they do the trick. I've been using them for several days and can tell they are helping. No more mad red skin! They are also fantastic for yucky poos. They may not contain the whole message, but they make the actual diaper easier to spray clean. And the liners come clean quite easily as well. I totally didn't expect to like these very much. I expected just ok. But, I love them!
08/31/2018
Work perfectly!
I love using these diaper liners! They are so soft and breathable, and I love that I can use these instead of "flushable" (that aren't really flushable) wipes. They catch it all!