Description
In collaboration with tokidoki & Kanga Care — tokitreats brings sweet cuteness to swim and potty training! Lil Learnerz are here to help your toddler hit the next milestone - potty training! When your little one is ready to leave the diapers behind but still needs help and protection, Lil Learnerz will become that essential aid. Lil Learnerz look like big kid underwear and come in multiple fun prints and vibrant color combinations. Lil Learnerz are made with IMWET TECHNOLOGY! This feature lets your toddler feel wet when they have had an accident. This helps them learn more about their body and aids in the potty learning process. Lil Learnerz are breathable and soft with a hypoallergenic layer that rests against your child's skin.
Lil Learnerz are also waterproof and can hold a heavy accident with no trouble. The inside is made up of an absorbent, dual layer, microfiber core. Lil Learnerz are easy to pull up and down by your little learner! Just like real underwear! Lil Learnerz are available in five sizes ranging from Extra Small to Extra Large. The Extra Small and Small sizes also feature side snapping release panels for easy-off in case of accidents with early learners.
Additional Information
Waterproof outside
Hypoallergenic inner
2 layers of absorbency
IMWET Technology lets child feel we and learn their own body signals while Lil Learnerz training pants keeps accidents from leaking.
Sizes X-Small & Small have side-snap release panels for ease with accidents and early learners
Size Medium, Large, and X-Large are Pull-up style.
Wash & Care Instructions
The number one thing to remember when caring for your diapers is they are just another load! There is no magical solution that you should need and no crazy tricks.
Washing Instructions
1

Cold rinse

2

Hot wash: add the recommended amount of detergent for the appropriate load size.


3

Cool rinse

4

Tumble dry low or lay flat to dry in indirect sunlight.
Detergent Recommendations
1

Original Tide Ultra

2

Tide Free and Gentle

3

Gain

4

Ecover (powder, not liquid)
Please do not use laundry additives such a bleach, Oxiclean, Borax or Bac-out to wash your Kanga Care products. If you have questions about our washing instructions, please ask! We are happy to help!
Sizing Information
Customer Reviews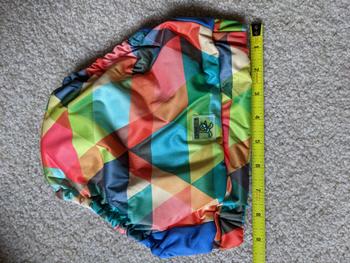 07/26/2021
Excellent Quality
Ordered from the Target website to use as a swim diaper, then hopefully as training pants when ready. Ordered a Large for my stocky 2 year old, 32 lbs, 36", 4T in clothing, size 5-6 in disposable diapers and it fits perfectly! Feels very soft and comfy, excellent quality. Would size up if your little one has chunky thighs/midsection. Love the 2 pack, and that it is washable, disposable seem very wasteful and don't normally fit well.
Sara

United States
03/13/2022
Perfect for ***** training
I bought these for my daughter when she was around 2 years old. Initially they fit her perfectly though a little snug even though she was around 25 lbs (we bought size small). We are ready to size up to a medium now at 30lbs. I love that they can be removed like a diaper since my daughter hasn't started to use the ***** for number 2 yet. These make cleanup much easier than traditional pull on cloth training pants. We love them!
Ashley B.

United States
02/07/2022
Perfect fit!
Love everything about these! Best when it comes to preventing leaks. Love the design!
Sarah K.

United States
07/11/2021
***** training is so cute!
These are so adorable. So easy to use and love the print.
Maggie T.

United States