Description
Mix and Match your favorite Lil Joey newborn cloth diapers and start saving on diapering from birth through potty training!

The Lil Joey is a newborn diaper designed to fit from approximately 4-12lbs. Kanga Care brand cloth diapers are the ORIGINAL and ONLY cloth diapers uniquely designed with the patented leak protection technology of dual inner gussets. The inside of each diaper is designed with 2 gentle inner gussets, a double barrier that channels each leg. There is no chance of escape for even the messiest of messes! The Lil Joey takes special care with a snap down front for sensitive cord care during those first precious days.
The Lil Joey is the simplest of diaper systems on the market for a newborn baby. The internal soaker is 4 layers of thirsty microfiber that have been permanently sewn into the core of the diaper, no stuffing required. The Lil Joey is waterproof and requires no cover. Kanga Care uses a water resistant polyester TPU which a is solvent-free polyester fabric that has been laminated with a thermoplastic polyurethane using a heat bonding process, not chemicals. This process is low in toxicity and is better for the natural environment then traditional PUL. One of the most important decisions new parents face, just got easier!
Additional Information
To Use:
Before first use, wash diapers once.
If cord stump is still present, snap down the cord care feature.
After cord stump has healed, cord snap feature may be un-snapped. Chose whichever snap settings fits your newborn the best.
Fasten diaper to baby!
Wash & Care Instructions
The number one thing to remember when caring for your diapers is they are just another load! There is no magical solution that you should need and no crazy tricks.
Washing Instructions
1

Cold rinse

2

Hot wash: add the recommended amount of detergent for the appropriate load size.


3

Cool rinse

4

Tumble dry low or lay flat to dry in indirect sunlight.
Detergent Recommendations
Click here for Kanga Care's list of recommended detergents that have undergone testing and fulfill the necessary requirements for effectively cleaning human waste.
Please do not use laundry additives such as bleach, Oxiclean, Borax or Bac-out to wash your Kanga Care products, learn more about how this can negatively effect your cloth diapers and accessories.

If you have questions about our washing instructions, please ask! We are happy to help!
Sizing & Content
Customer Reviews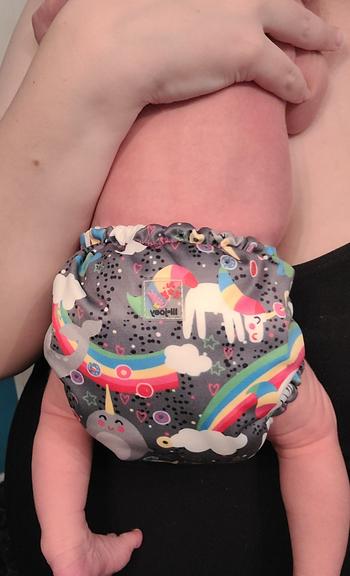 05/03/2021
Lil Joey's are perfect
These are perfect for new little babies
Carrie R.

United States
12/02/2022
Great design
Love the gussets and plush feeling. Really holds in the **** well!
Ross M.

United States
09/04/2022
Shower Gift for Grandbaby
My Daughter was thrilled with my choice of patterns and anxious to use them when baby arrives in October
Heidi W.

United States
07/03/2021
Fits great!
Just tried them on my newborn. They fit like a glove! We're ordering more. Thanks KangCare!
Kaitlin W.

United States
05/10/2021
Mix and match
I love the mix and match option! Picking 2 prints of the amazing lil joey's these have been perfect for my tiny newborn!
Carrie R.

United States